Insurance Claim of Roof Damage Caused By Wind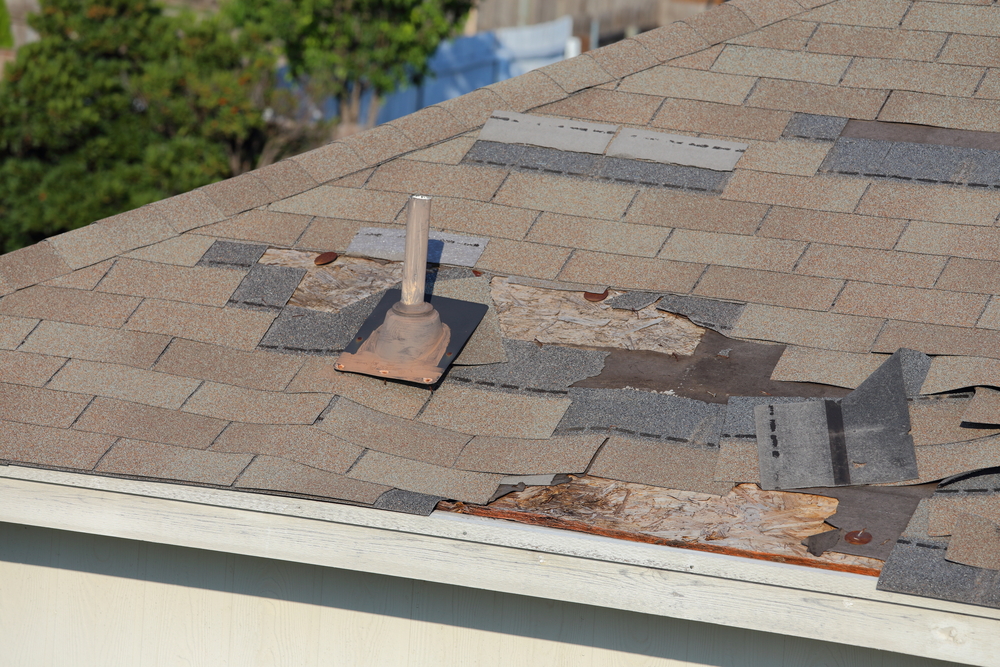 When we talk about wind damage, we mean more than just your sporadic tornado. According to the National Severe Storms Laboratory, damage from severe winds that accompany thunderstorms and other events actually account for more than half of severe wind reports, and are more likely to cause massive damage than a tornado.
Any sustained wind over 50mph has the potential to damage roofs, including that of your commercial property. From falling debris, torn off shingles and ripped sheathing, your roof is not indestructible, and storm damage can lead to a myriad of other problems, like a roof leak.
When you need to file a roof damage insurance claim caused by wind, here are some things to keep in mind when it comes to your coverage and repairing or replacing this essential feature of your property.
What does your insurance cover?
Like with any commercial insurance policy, it's important to understand how your property and its roof are protected from wind damage by reading the fine print. It's likely that your insurer has strict guidelines for what your policy covers and pays out. Your roof may be made up of shingles, decking and surface materials, does your policy cover all of them? Reading the fine print ensures your insurance company will cover your roof in its entirety.
Then, you need to evaluate what kind of wind damage your policy covers. Can you make a claim for wind-borne debris damage, hurricane winds and wind storms? You may think that wind is wind, but your insurer will need to know the specific event that caused the damage to see if it is covered by your policy. They will never cover general wear and tear. Consider the risk factors of where you live as well.
Finally, you should fully understand how your policy will pay if your claim is approved. Will your insurance company pay out for the full replacement cost, or just for specific repairs? Furthermore, will they pay roofing contractors on your behalf, or do you receive the full settlement amount?
Every commercial roof insurance policy is unique, but understanding these three components of your plan helps you understand your rights to filing a claim.
How to file an insurance claim for roof damage
The most important thing you need to do when filing a roof damage insurance claim for wind is properly document the destruction. Atlanta Commercial Roofing Contractors highlights a few of the hidden and visible damages to be on the lookout for when a wind storm strikes:
Lift: More common with shingles, this is when wind lifts up your roofing material and breaks the sealant. While your roof may look intact, water is likely seeping through.
Falling equipment or debris: Most commercial roofs are flat and are where the HVAC system and other essential components sit. If this equipment is blown over by strong wind, it can puncture or tear your roofing material. The same is true of fallen debris, like tree branches.
Anything scraping or blowing on your roof has the potential to damage its materials in addition to the shear force of the wind. However, it can often be difficult to identify wind damage until it rains and your property experiences leaks. For this reason, it's advised to bring in a roofing contractor or public adjuster who knows what to look for to document damage. Additionally, make sure to have your roof inspected semiannually to be proactive.
From there, the claims process is the same as for any other insurance coverage. Your insurer will review your claim, accompanying documents and your policy to approve or deny what you're asking for.
Repair or replace? What to know about common commercial roof types
Whether your insurance company will cover the cost of a roof replacement or repair is determined by a number of factors: Your policy, the extent and scope of the damage, previous maintenance and, of course, cost. While many of these factors are previously determined by your insurer or come out during the claims process, you should also consider the kind of commercial roof you have when determining whether to repair or replace it.
Here are some of the most common commercial roof types and how they hold up under severe winds:
Built-Up Roofing Membrane (BUR): According to J&M Roofing, BUR is one of the oldest ways to cover a flat roof. It's built by creating layers or tar or asphalt, fiber and crushed stone (or other material) on top. It has a long lifespan (around 50 years) and lends itself well to repairs as it can be patched with more rolls of BUR.
Metal: Steel, aluminum and copper are all incredibly durable roofing options. However, if they were to be punctured by falling wing debris it may be difficult to patch.
Other membrane roofs: The roofing companies categorize new roofing materials as membrane roofs. This encompasses Thermoset EPDM and Thermoplastic PVC and TPO roof membranes. These roofing materials are easy to install, but more difficult to repair. They supposedly have the longest lifespace, though they are still too new for that claim to be tried and tested.
In short, much of whether you and your insurer choose to replace or repair your roof comes down to it's material and age.
What if your claim is denied?
Sometimes even the most organized claims are denied by the insurance company. If your roof damage insurance claim for wind is denied by your insurer, there are a few things to do. First, you can hire a public adjuster to file an appeal. They will help you properly document your roof wind damage, take the time to understand your policy and properly submit your new claim. They will even negotiate with your insurer for you.
If you feel you have been treated unfairly by your insurance company, however, you may benefit from hiring an attorney to help you through the next steps.
It's always best to be proactive about your roof damage insurance claim for wind or any other natural event. Contact the professional public adjusters at Stone Claims Group to find out more about what we can do to help with your commercial property claim.
Any views and opinions expressed in this blog are those only of the author of same and may not be imputed to Stone Claims, its current or former agents, or their assigns and successors. Under no circumstances shall Stone Claims be held responsible or liable for same including, but not limited to, for any errors or omissions in the content of same.