Hail Damage Roof Insurance Claim: Repair or Replace?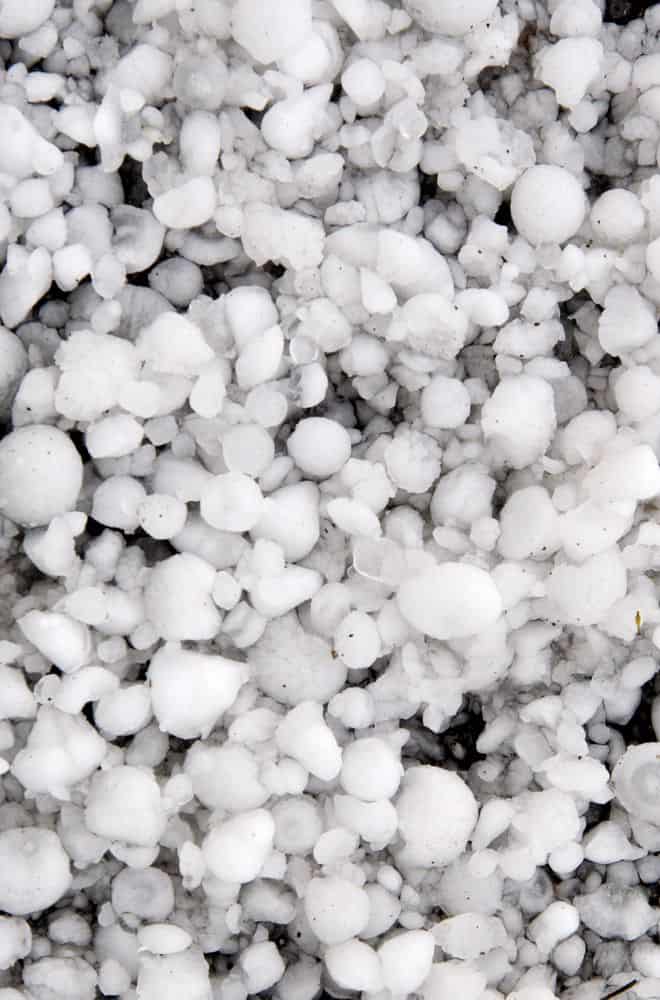 Hail is one of the most destructive forms of precipitation, but many commercial property owners still don't understand the damage it can wreak on their building. A severe hailstorm, accompanied by high winds and large, dense hailstones can severely harm the roof, windows and siding of a building — not to mention leave the property susceptible to water damage.
If you own a commercial property where these weather events occur, it's essential to have the right insurance coverage and a trusted public adjuster by your side if you ever need to make a claim for hail damage. Let's explore more of the specifics of a hail damage roof insurance claim, including specifics around repairing or replacing your commercial roof.
The risk of roof hail damage
If you're concerned about your commercial property being damaged by hail, one of the first things you should do is check your risk based on your location. The map below, created by the American Geophysical Union, shows how the maximum hail size ranges across the country. As you can see, the Midwest is especially prone to experience hailstones upwards of four inches in diameter.
PolicyAdvice further breaks down the states with the most hail damage based on the number of major hail events:
Texas: 508
Kansas: 493
Colorado: 332
Nebraska: 309
South Dakota: 309
In this case, a "major hail event" is considered a storm that is long lasting, accompanied by strong winds or brings large hail storms that cause significant property damage. There is also a direct correlation between larger hailstones and more severe and widespread damage. As PolicyAdvice points out, many of the most recent major hail events in the country involved grapefruit sized stones
Hail storms are not only prevalent in the United States, they are also costly. According to the Insurance Information Institute, hail-related insured losses between 2000 and 2019 cost an average of $8 billion to $14 billion each year. Furthermore, in a span of two years, from 2017 to 2019, there were 2.8 million hail claims made in the U.S.
Clearly, hail coverage should be a priority for commercial property owners (especially those in the Midwest). Hail storms are known to cause widespread property damage, and residential and commercial roofs take the brunt of the force. It's important to understand your insurance policy to ensure you will receive the compensation needed to repair or replace your commercial roof if hail damage is documented.
Many insurance providers have a strict deadline when it comes to reporting wind and hail damage, and if you miss it you could risk not being able to file a claim. That being said, most insurers give you a year to file a hail damage claim, but make sure to check with your provider in case their rules differ.
Repair or replace? Consider your commercial roof type
Once you know the extent of your hail damage insurance coverage, it's time to take a long look at your commercial building's roof. When a hailstorm strikes, the top of your property will take the brunt of the damage. Large hailstones can dent and damage your roof, or at worst create holes that lead to roof leaks and further property loss. The damage you document along with the scope of your commercial property coverage will play a large part in determining if you should repair or replace your roof.
The right roofing materials can make all the difference when it comes to the severity of the damage and the settlement amount you would need to make roofing repairs or a complete replacement. Here are the top commercial roof materials per TEMA Roofing Services and their pros and cons:
Metal: Steel, copper and aluminum are all durable materials to use for your commercial roof. They have a long lifespan and during a hailstorm may only experience some denting. However, these materials may be susceptible to corrosion. If large portions are damaged by hail, replacement may be necessary because it can be difficult to properly patch sections of metal.
Built-up Roofing Membrane: This roofing material is created by alternating layers of tar and gravel. This makes it a durable option, and it's also easy to repair. A downside is it can be difficult to identify the source of leaks that could be caused by hail, leading to more damage and the need for a complete replacement.
Thermoset Roof Membrane: Ethylene Propylene Diene Terpolymer (EPDM) is a roll-based, synthetic rubber roofing material. It's long-lasting, easy to install and durable. However, it's not the most attractive roofing option and it is prone to puncturing, so it's not the most practical option if your location experienced severe hailstorms with large stones because it would need to be replaced often.
Thermoplastic Roof Membrane: Thermoplastic Polyolefin (TPO) and Poly Vinyl Chloride (PVC) are two popular roofing systems that are resistant to harsh weather. They are impact resistant which makes them ideal for buildings located where hail is a common occurrence. When purchasing TPO or PVC, ensure you're sourcing it from a reputable manufacturer. The durable materials make it easier to repair when punctures are found.
Another commercial roof material to mention is Modified Bitumen. According to Best Roofing, Modified Bitumen Roofing is made up of five layers: insulation, base sheets, membranes, adhesive and surfacing. This makes it one of the most durable materials for commercial roofing as it holds up to wind, rain and hail.
Call in an expert when you suspect damage
Hail damage can take many different forms, and can be difficult to see without an untrained eye. After a hailstorm, it's always best to do a safe self-inspection. For your own safety, we recommend looking for any damage to siding, shingles and skylights from the ground and taking pictures of any destruction that you can.
However, when it comes time for a full roof inspection, it's best to call in professional support. A roofing contractor has the knowledge and tools to safely survey your commercial roof for dents, tears and leaks caused by wind and hail. A contractor will be your best asset when it comes to documenting roof damage your insurance provider needs to put a dollar amount on your losses. They will also give you more insight into whether your roof needs to be repaired or replaced based on the damage, materials and its age.
When you begin to make your claim, call an experienced public insurance adjuster for help. They will assist you in collecting the documentation needed to file a correct insurance claim and receive the maximum settlement amount. You need your insurance company to give you the funds to repair or replace your roof, and your public adjuster works to ensure you receive fair compensation. It's also important to note that hailstorms and wind are typically considered natural acts, so your insurance company likely won't raise your rates for a hail damage insurance claim.
Now that you know what you need to consider when filing a hail damage roof insurance claim, your commercial building is more prepared for severe weather events. And when it comes time to work with a public adjuster, Stone Claims Group is here to help. Contact us today to learn more about how our experienced public claims adjusters can help maximize your hail damage claim.
Any views and opinions expressed in this blog are those only of the author of same and may not be imputed to Stone Claims, its current or former agents, or their assigns and successors. Under no circumstances shall Stone Claims be held responsible or liable for same including, but not limited to, for any errors or omissions in the content of same.