How Thunderstorms Can Affect Your Business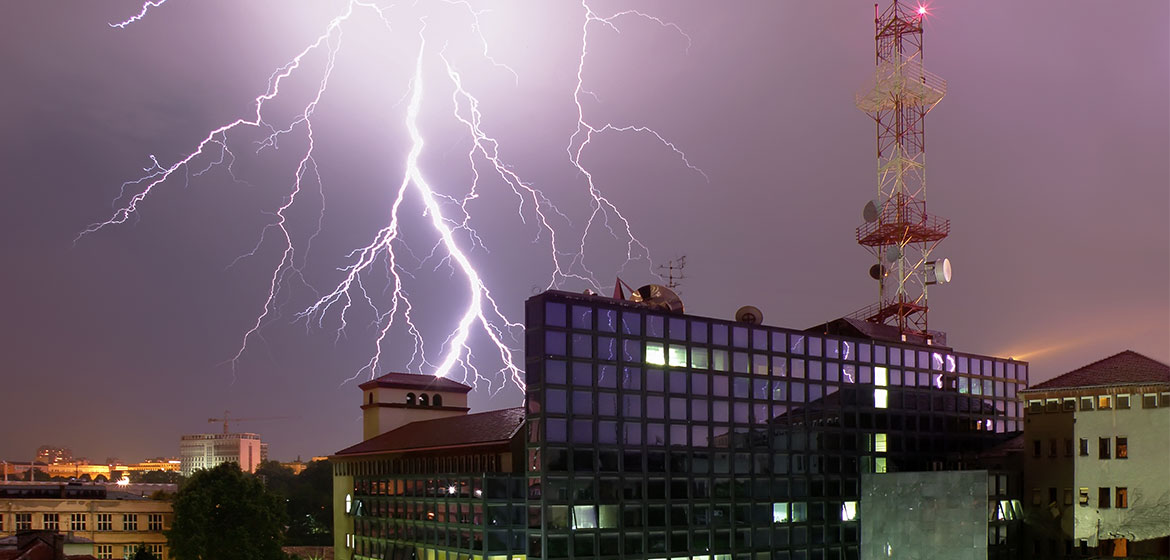 Severe storms may impact your business in numerous ways.
Lightning frequently accompanies thunderstorms. Along with that, destructive fires, powerful winds, flash floods, hail, structural damage, power surges and more can all occur. Before the next storm hits, try to make the unpredictable more predictable by knowing what to expect. The following will detail some ways in which your business can be negatively affected by thunderstorms.
Whenever possible, do all you can to protect the business from wind, water intrusion, and more. Remember, an ounce of prevention is worth a pound of cure – even when it comes to commercial properties.
Thunderstorms Can Cause a Fire
According to the NFPA (National Fire Prevention Association), lightning results in roughly 22,600 fires per year. Such fires lead to numerous damages, and about $451 million in property damage. Since fire risk is so closely associated with lightning, carefully watch as storms approach and go through your area. Immediately call emergency services if your facility experiences a fire from lightning.
Lightning can also strike a tree, power line, etc., which, in turn, can crash on your business. That means broken glass, a compromised roof, or other building damage.
Power Surges Can Destroy Electronic Devices
Thunderstorms can also impact your business by causing a power surge. What's that? A power surge is a very rapid, sudden rise in the electric current. If lightning strikes nearby electricity lines, telephone wires, or your office building, it then generates a heavy surge of electricity. That surge flows through cables/wires and damages your electronic devices. Before the storm hits, unplug everything! Stay off landlines until the storm is out of the area.
Power surges can destroy or permanently damage IT systems, or telephone wiring, lead to costly destruction, and you might also lose all your data.
Tips to Prevent Wind Caused Structural Damage
Structural damage from thunderstorms emerges following severe wind velocities. High winds may strip siding and/or shingles from your exterior. That leaves sections of your building exposed to the elements. Then you'll have water leaking into multiple areas, causing potentially "unseen" damage.
What's more, flying objects from outside can go through windows and damage the exterior of your building. Before the storm hits, carry in or fasten down all external furniture and other objects.
During the storm, stay away from windows or glass panels. If possible, shutter windows.
What To Do After the Storm
Once the storm has passed:
Check your business, outside and indoors, for damages.
Examine the roof and sections that may have flooded.
Report power outages or broken lines.
Call your insurance provider to assess all damages.
Here's the Best Tip of All If Your Commercial Property is Damaged In a Storm
If your business experiences damage from a storm, know that you are not alone. The experts at Stone Claims are ready 24/7, every day of the year, to help you get back to the business of being in business!
Stone Claims will efficiently and effectively conduct your property damage insurance appraisal. We operate in Tennessee, South Carolina, Pennsylvania, Oregon, Oklahoma, North Carolina, New Jersey, Nebraska, Mississippi, Maryland, Louisiana, Georgia, Florida, Delaware, Virginia, Texas, and Colorado.
Why should you contract Stone Claims for your commercial adjustment needs? Insurance adjusters work for insurance companies. We work for you. We fight for fairness.
For a free claim review, please contact us at 1-800-892-1116. You can email us at office@stoneclaims.com if you like. Or you can use our convenient online form. Fill it out, send it in, and we'll get back to you.