Recovering from Broken Pipe Water Damage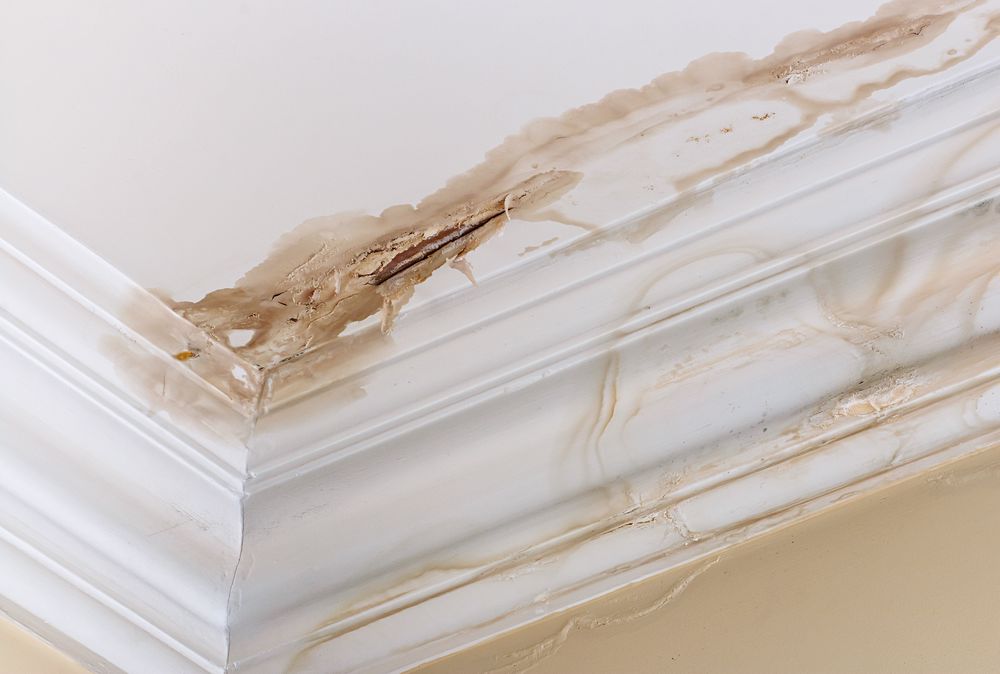 Water damage is one of the more common issues property owners — whether it's a home or a business — face. Typically, when water damage occurs, it stems from overland flooding, usually caused by a variety of weather-related events, like torrential rainfall, snowmelt or other environmental factors. Indeed, according to the most recent figures available from the Federal Emergency Management Agency, flooding is the most common natural disaster in the U.S. It's also the costliest, leaving a property owner to absorb the expense entirely out of pocket if they don't have flood insurance. A traditional insurance policy does not cover flooding when it originates from outside.
But water damage can also occur when a pipe bursts. Indoor plumbing is a wonderful thing and something many of us take for granted. But when temperatures drop well below freezing or pipes are severely corroded, plumbing can give way, causing thousands — if not tens of thousands — of dollars in damage.
Since the destruction caused by a burst pipe leads to water damage — and flood insurance is a form of property insurance that addresses water damage — you may think the cost to fix the damage is covered by flood insurance. But it isn't.
What are some of the ways that a pipe may burst? What kind of coverage do you need for a broken pipe? Will property insurance cover water damage if you're the reason why the pipe broke in the first place? Why is it important to identify the type of water damage you're affected by when filing an insurance claim? You've come to the right place for the answers to these questions.
What are some of the ways that a pipe may burst?
As a property owner, it may seem like damage due to a broken pipe is fairly rare. A water pipe may leak from time to time due to wear and tear, but it's not something that amounts to much aside from inconvenience. Right?
The problem with this thinking is there are many ways a water pipe can burst, thus making it an ongoing risk. They include, but aren't limited to, the following:
Freezing temperatures
Tree root encroachment
Corroded pipes
Shifting soil
Dangerously elevated water pressure
Clogs
Take frozen pipes for example. Since water expands when it freezes, it causes pressure to build within the pipes to the point they can sometimes break open. The problem is, they don't have to bust wide open to cause significant property damage. As noted by Groundworks, a fissure that's just one inch in length can send hundreds of gallons of water gushing to the floor in seconds.
In short, because there are so many scenarios that can cause a pipe to burst, high-quality plumbing should be a top priority for a property owner.
What kind of coverage do you need for a burst pipe?
The manner in which a pipe breaks is important to establish, because it can ultimately determine whether the resulting water damage is covered by property insurance.
Generally speaking, when a pipe bursts, a basic commercial property insurance plan will cover the damage, up to the limits of the policy. In other words, there may be a certain amount the policy pays for, while you as the owner are responsible for the deductible.
But again, how the pipe broke will be the ultimate determiner of whether insurance covers the water damage or if you may have to pay for it on your own.
For example, suppose you own a business in a part of the country where the temperatures can reach the single digits or below zero, causing your pipes to freeze. There's a pretty good chance your traditional commercial property insurance policy will go to work for you in this case, especially if you took precautions to prevent them from freezing, such as letting water drip from the faucet overnight or installing pipe insulation.
Property insurance may not be something you can rely on, however, if the pipe broke due to poor maintenance. For instance, if there was a slow water leak and you never got around to fixing, your insurer may deny your claim.
This is yet another reason why sticking to an ongoing maintenance schedule is very important. Aside from the fact that it can help you avoid hefty water bills, fixing pipe leaks may reduce the chances your insurer will deny your water damage claim.
Will property insurance cover water damage if you're the reason why the pipe broke?
Whether you own a warehouse, restaurant or office outright or you're still making mortgage payments, any water damage that occurs under your roof is your responsibility. In other words, you're the one who has to take the initiative to resolve whatever water damage you encounter. A public claims adjuster can be of great assistance in this matter.
When it comes to figuring out if you need to pay for the fix or your property insurance will defer some or all of the expense, it all depends on the cause of the damage. If the water damage is gradual, meaning it occurred over time rather than all at once, you may be responsible for the repair costs.
But what if a leak is behind a wall or cabinet and hidden from sight until it's too late? Will the insurance company pay for the resulting damage? This answer will vary from one insurance policy to the next. The public adjusters at Stone Claims Group are experts at reading and interpreting policies and are able to answer these types of questions.
When you encounter mold, rot or floor deterioration, these are all damage examples of issues that likely trace back to inadequate maintenance. In short, they're problems that could have been avoided had you adhered to a maintenance schedule, or proactively called in a professional to get the water leak fixed.
But if the water damage is sudden and related to burst pipes that occurred through no fault of your own, a standard commercial property insurance policy will likely pay for the costs incurred.
Once again, who pays — and how much — all goes back to the kind of water damage present, where it originated (i.e. an internal or outside source) and a few other aspects that may be unique to your specific situation. The investigation into the matter will go a long way toward this determination.
Generally speaking, if it's from an outside source, flood insurance is the relevant policy. But for broken pipes, property insurance is the policy you need.
Get in touch with a public adjuster to ensure full recovery
As you can see, there is so much more to water damage than meets the eye. All you want is to get the burst pipe fixed with as little cost to you as possible. At Stone Claims Group, we will help to streamline the insurance filing process on your behalf so you can focus your attention on your business; leave the rest to us.
From policy review to property inspection to documentation to contacting a plumbing specialist to get the water damage repaired, Stone Claims Group is with you until the end.
Contact us today to learn more about our unsurpassed expertise in property insurance matters for business owners like you.
Any views and opinions expressed in this blog are those only of the author of same and may not be imputed to Stone Claims, its current or former agents, or their assigns and successors. Under no circumstances shall Stone Claims be held responsible or liable for same including, but not limited to, for any errors or omissions in the content of same.