Stone Claims Group Receives Diamond Level Readers' Choice Award from FCAP for 2021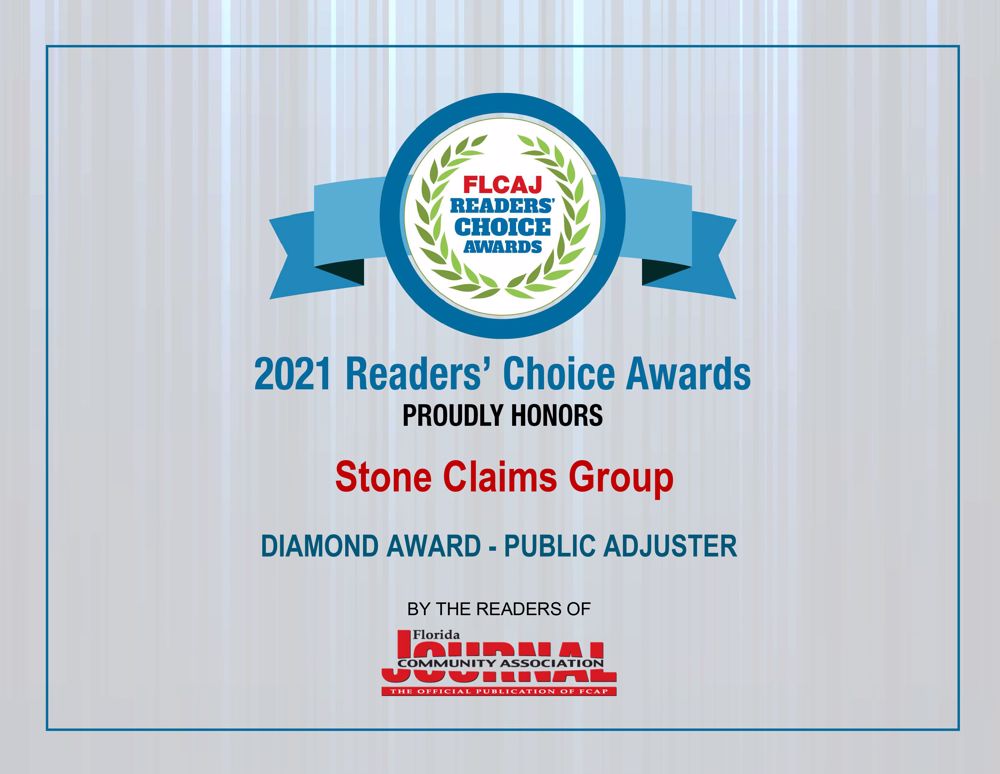 It is a pleasure and a privilege to announce that we here at Stone Claims Group are among the recipients of the 2021 Readers' Choice Awards, presented annually by the member-based organization Florida Community Association Professionals (FCAP). Not only that, we also received top billing for the FCAP's Diamond Level Readers' Choice Award, in the "Public Adjuster" category.
What are the Readers' Choice Awards?
Bestowed each year to a select group of community association service providers in the Sunshine State, the Readers' Choice Award is the Florida Community Association Journal Magazine's highly coveted recognition of companies that "demonstrate, through their commitment to the community associations they serve, an exemplary level of proficiency, reliability, fairness and integrity." Florida has approximately 48,500 community associations, second only to California, according to the Foundation for Community Association Research.
What's significant about 'Diamond Level'?
There are three "degrees," or levels of recognition, for the Readers' Choice Award, which align with the extent to which companies have performed on behalf of the customers and clients they serve: Gold, Platinum, and Diamond. Diamond is the highest in terms of prestige and requires the largest number of votes. Stone Claims Group received the Diamond distinctions. This year, more than 11,500 votes were cast overall — a record-high — and 240 service providers were nominated. Three-quarters of the nominees were declared as winners in one of the three degrees, but only a select number got Diamond billing — just 42.
The fact that Stone Claims Group was one of them is a true milestone for us and validates why we do what we do — helping our clients get the most of their insurance claims when they experience a loss. We've been doing it proudly for our fellow Floridians since 1993.
While we may be based in the Sunshine State, we have a network of licensed public adjusters in nearly half of the U.S., including New York, Texas, New Jersey, the Carolinas and several other states. From fires to theft to hurricanes and more, no disaster is beyond our capability to deliver maximum claim compensation results, having settled hundreds of millions of dollars in property insurance filings since our founding.
Thank you to the FCAP for this honor and to those that voted for us. It is a genuine honor to serve you.
For more information on how we may be able to help your business, contact us today.