The Surprisingly Interesting History of Asphalt Shingles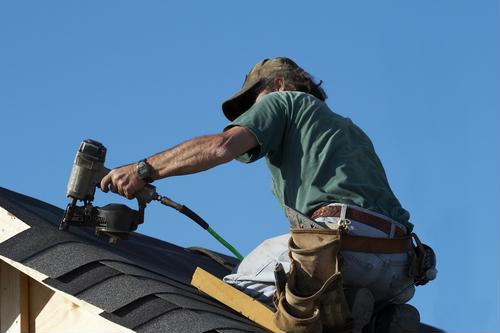 Go-getter business owners like you always aim to energize your work processes so that productivity — and, ideally, profitability — goes through the roof. Unless you're a roofer, contractor or builder, metaphors such as these may be the only time the structure that keeps you and your team sheltered comes to mind. But on that topic, what is your roof's makeup? Most likely, it's composed of asphalt, one of the more widely used materials for roofing in the U.S. According to the Freedonia Group, demand for asphalt shingles is poised to reach nearly 137 million squares in 2021, a 1% increase from 2020.
The following is a brief background on the surprisingly interesting history of asphalt shingles. What you discover may provide you with a better understanding as to why it's a popular roofing material and whether yours is fine as-is, needs to be replaced or is potentially vulnerable to damage in the event of a major storm.
When were the first asphalt shingles used?
Believed to be developed by inventor Henry Reynolds, asphalt shingles were first used in 1903 in Grand Rapids, Michigan. Prior to their arrival, most roofs were composed of wood and slate, predominantly during the early 18th century. Prior to that, clay tiles were fairly commonplace atop various shelters. In fact, researchers and archeologists have identified clay roofing material from China over 5,000 years ago. Bituminous and metal roofing systems were also fairly routinely used, coming into vogue in the 1850s, according to Architect Magazine. The same was true for pine tar, which installers at the time would use to coat the fabric that rested atop properties, as noted by Asphalt Magazine.
But as you might anticipate, wood doesn't hold up well in wet conditions and is subject to warping, decay, dilapidation and mold. This ultimately diminished the shelf life of roofs and led to ongoing replacement, especially during periods of heavy rainfall or snow.
Asphalt shingles revolutionized roofing because of the material's natural waterproofing capabilities. This material is also inherently resistant to fire, something that wood clearly is not (assuming it hasn't been treated).
In what way have asphalt shingles evolved?
Technology is in a near constant state of advancement and improvement. Roofing materials were the beneficiary of this fact. But driving the shift to asphalt was cost. In addition to wood and clay, felt was another commonly used substance for roofing. Felt is composed primarily of cotton rag. But in the 1920s — amid the Great Depression — the cost of cotton rag surged. While asphalt shingles were already in use by this time, a desire to rein in costs led to the proliferation of studies and testing that ultimately helped to expand the asphalt shingle market.
Today, asphalt shingles typically break down into two categories: organic and fiberglass. Another term for natural, organic shingles are traditionally composed of base material, such as cellulose, waste paper and wood fiber. Fiberglass derives from glass fibers and is coated with asphalt, which is what makes them so resistant to water. The fiberglass variety is by far the most commonly used asphalt-based shingle. Compared to other roofing materials, fiberglass shingles are affordable, fire-resistant, versatile and relatively low maintenance. They're regularly used for homes as well as for commercial buildings due to these advantages. Generally speaking, so long as they're vented and installed properly, asphalt shingles typically last around 20 years — sometimes more, other times less. Weather and seasonality can have an impact on their longevity.
Are there any drawbacks to asphalt shingles?
No roofing material is perfect, and that includes asphalt shingles. For instance, relative to metal roofing, asphalt shingles can sometimes last a lifetime, up to 40 years in a number of cases. So while asphalt is lighter on the wallet, it also needs to be replaced more frequently.
Another con of asphalt shingles is their storm-resistance — or lack thereof. Be it from the whipping winds of a hurricane or the incredible power of a tornado, severe weather can cause significant damage to shingles.
The Insurance Institute for Business Home and Safety (IBHS) has run a number of studies and tests on building materials over the years to gauge their quality, stability and form conclusions about how properties can be built more robustly. During wind testing of asphalt shingle products, IBHS determined that self-sealing played the biggest role in how this roofing material is able to withstand high winds. Also affecting their resilience is slope of the roof, be it steep (14 degrees or more, and 2:12 pitch) or low (less than or equal to 14 degrees). The Asphalt Shingle Manufacturers Association recommends having asphalt shingles hand sealed for steep slopes and in cold weather environments.
This is probably more than you ever imagined knowing about asphalt shingles, but we mention it all for one simple reason: We know roofing. And while wear and tear may not be covered by your business owners policy, we know what to look for when your roof has been damaged and you need to make a claim.
As public adjusters at Stone Claims Group, we handle documentation, inspection, negotiation and settlement — all under one roof. We do it all to ensure that your policy fully covers you, even if your roof no longer does. Contact us today.
Any views and opinions expressed in this blog are those only of the author of same and may not be imputed to Stone Claims, its current or former agents, or their assigns and successors. Under no circumstances shall Stone Claims be held responsible or liable for same including, but not limited to, for any errors or omissions in the content of same.