Warning Signs Of A Commercial Roof Leak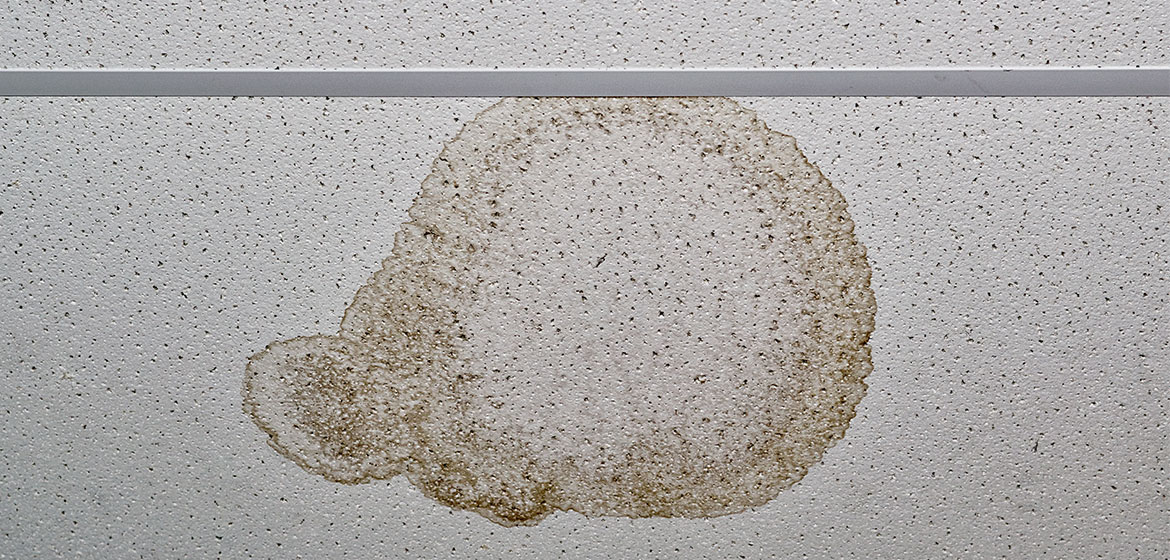 It is advisable to check your commercial roof regularly for any signs of damage. This is particularly applicable to flat roofs. Discovering commercial roof damage issues early can mean the possible prevention of a major repair bill. The following are several warning signs that could mean you need to contact an experienced commercial roofing contractor for an inspection and potentially a repair for your roof.
Stained Ceiling or Walls
Let's face it, every building has a ceiling – be it commercial rental property, a factory, an office building, a restaurant, or what have you. This can include ceiling tiles, drywall, or something else. Prolonged exposure to leaks may lead to ceiling discoloration. When the leaks are close to walls, the discoloration and/or stains may follow the wall. Leaks can also occur behind a wall, rather than affecting the ceiling.
Visible Damage to Roof or Flashings
Most forms of roof damage result in leaks in your commercial building. In many cases, you can detect a roof leak before it affects the entire building by being alert and keeping your roof in good condition. Consider hiring a roofing contractor to inspect, clean, and/or fix your roof regularly.
Signs of damage that can lead to roof leaks:
Still water points to bad drainage – clogged gutters result in water building up in ponds on your roof
Membrane blisters or alligatoring – old and battered membranes may appear frosted or damaged
Cracked seams – the hinges of the membrane over your roof may become loose
Ruptures or gaps in membranes – objects dropping on your roof, workers walking on the roof, etc. can cause a gap or fracture
Dented flashing – the steel flashing on your roof can become loose or dented following harsh weather conditions
Water Dripping or Puddles Inside Your Building
A clear sign of a commercial roof leak is water actively leaking into buildings. These forms of leaking can ruin building interiors, the structures themselves, or objects contained in the building.
Higher Energy Bills
As a result of some roof leaks, insulation may become saturated. Your building's insulation level is, thereby, affected. In the summer, it won't be able to keep as much cool air inside the building, in the winter, the same applies for warm air. This means that, due to the loss of insulation, your energy bills can and probably will increase.
Don't Ignore the Signs When it's Time to Replace Your Commercial Roof
Ignoring roof damage can be harmful to your workers, your building, and/or your company in general. When you see drooping or stained ceiling tiles, or other signs of water leakage, jump to action. Contact a roofing specialist at once! Delays may aggravate the situation, causing massive repair bills from internal water damage.
The first step in the right direction will be to have a contractor to do a full inspection of your old roof system. They will be able to advise you as to the next steps that should be taken. Try to find out, from the contractor, if they can pinpoint the cause of the leak or the damage. If your roof has been damaged by an outside force, you may be able to file a claim with your insurance company.
If Roof Damage and Leaks Have Devastated Your Commercial Property – Hire a Public Adjuster
Stone Claims will professionally and competently manage your appraisal for property damage insurance claims in Oklahoma, North Carolina, New Jersey, Nebraska, Colorado, Mississippi, Maryland, Louisiana, Georgia, Florida, Delaware, Virginia, Texas, Tennessee, South Carolina, Pennsylvania, and Oregon.
Here's something insurance companies don't want you to know: Insurance adjusters work for insurance companies. We work for you. We fight for fairness.
For a free claim review, please contact us at 1-800-892-1116. You can email us at office@stoneclaims.com if you like. Or you can use our convenient online form. Fill it out, send it in, and we'll get back to you.