How to File a Fire Claim and What is Covered?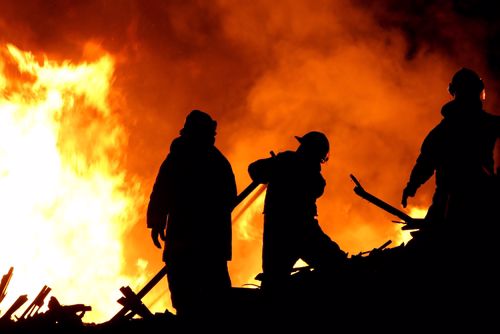 Fires are a devastating occurrence no matter where they happen, but did you know that commercial buildings have a higher risk of experiencing devastating fire damage than the average home?
According to the National Fire Protection Association, the top five common causes of fires in commercial buildings are cooking, heating, electrical and lighting equipment, and smoking materials. Due to the specialized equipment many commercial properties have, the chance of them malfunctioning and causing a fire resulting in a total loss is inherently higher.
Additionally, these buildings are designed with an open floor plan and may house materials that make it easier for flames to spread faster than in a home.
You should never underestimate the impact of fire damage on your commercial property. But if the time comes that you should ever need to file a claim, we're here to help. Let's explore more about the ins and out of filing a file claim.
Defining your fire coverage: What property damage is covered?
As with any other covered damage to your commercial property, filing a fire insurance claim starts by having a complete understanding of your policy. While coverage details vary by policy, most fire insurance plans are comprehensive and include the three main components of damage:
Building: Perhaps the most important asset your fire insurance should cover is damage to the building itself. In many cases, this may also include property surrounding your building as well, such as fences, business signs and landscaping.
Assets: The contents of your commercial property are also an essential aspect of your business. For instance, if your building houses specialized equipment, it's critical that this equipment is also covered by your insurance policy if damaged by fire. Other examples of contents that are likely covered by your fire policy are furniture, technology, tools and inventory.
Property of others: Do you ever borrow a neighboring business's tools or equipment? Your fire policy may offer limited coverage if other people's property is lost or damaged in the fire. However, if your business frequently has other property in its possession (like a repair business would), you should seek additional coverage.
Of course, it's also important to note some common occurrences that are not typically covered by your commercial fire insurance policy. If a fire is caused by a flood or earthquake, the damages may not be covered by your fire policy. In this case, you may be able to file a claim for water damage. Additionally, if a fire is caused by negligence, like leaving a lit candle unattended, or even arson, your insurance provider may be hesitant to pay for damages.
While direct damage to your commercial building caused by flames is likely the first thing you want to ensure is covered in your policy, you should also talk with your insurer to see if other fire-related damages are included, such as:
Smoke damage
Destruction from falling objects
Damage caused by extinguishing the fire
Fire department fees
Coverage for personal property
When you understand your fire insurance policy fully, filing a claim will be more straightforward. It will help you determine the property you need to include in your proof of loss form and continue with the process to recover from your fire loss.
Common reasons fire claims are denied
A common concern during the claim process is what would happen if your fire damage claim is denied. You want the insurance process to commence smoothly to receive the claim settlement proceeds necessary to get your property back up and running again, but that doesn't always happen on the first try.
There are numerous reasons why fire claims are denied or underpaid, but here are a few of the most common:
Misrepresentation of facts relating to the damage
Lack of documentation
Failing to file a complete claim on time
Policy exclusions or gaps in coverage
Non-payments on premiums
When you file a fire claim, it's important to be thorough about documenting the damage, dollar amount of your losses and how the event occurred. Even the smallest mistake during this phase can result in your claim being denied or drastically reduced by your insurer.
One of the duties of the insured is to allow the insurance company to inspect the damaged property. Do not throw any damaged items away until the insurance company has performed their inspection and you have properly documented the damage. Consumer Reports recommended taking pictures of damages and saving multiple copies of the receipts related to repair expenses along the way. The more you are able to accurately document the fire damage (when it's safe to do so), the faster the claims process can proceed.
Going through the claims process
It's widely accepted that a fire insurance claim can take anywhere from 3-4 months to complete. However, this depends on who you have by your side during the process.
A public claim adjuster is your best asset if you need to file a fire damage claim for your commercial property. As experts in all things insurance, they take the time to understand your policy inside and out to start the claims process quickly and accurately. They can also help you document the damages and conduct an independent appraisal that is essential for receiving a fair assessment of your property.
While insurance adjusters work for the insurance companies and conduct assessments in their best interest, a public fire claim adjuster works for the policyholder. They are by your side throughout the entire fire claim process, from reading your policy all the way to negotiating with your insurer and making adjustments as you continue repairs.
Fire is one of the most damaging elements, but that doesn't mean you can't be prepared to file a successful claim if your building is ever partially or completely destroyed by it. Contact the professional public adjusters at Stone Claims Group to find out more about how we work to ensure our clients have a smooth and fair claims process.
Any views and opinions expressed in this blog are those only of the author of same and may not be imputed to Stone Claims, its current or former agents, or their assigns and successors. Under no circumstances shall Stone Claims be held responsible or liable for same including, but not limited to, for any errors or omissions in the content of same.