How to Handle Claims Involving Your Modified Bitumen Roof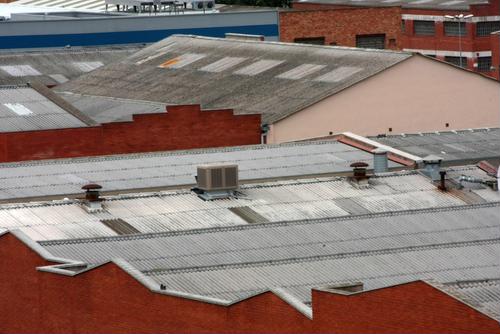 A roof does so much more than add to the curb appeal of your commercial property. The material you choose impacts how your roof stands up to the elements and prevents water leaks from damaging your building.
There are several different commercial roofing types, from metals and thermoplastic membranes to a built-up roof (BUR). One option to consider is modified bitumen. A single-ply system made of asphalt bitumen, modified with polymers and reinforced with fiberglass or polyester, is a durable material for a flat roof every commercial property owner should know more about.
Benefits of modified bitumen (MD) roofing
Modified bitumen is like the best of both worlds in the roofing industry. As an evolved version of hot asphalt roofing and BUR systems, it has a greater curb appeal but has a better watertight seal like a thermoplastic membrane. This means it provides a number of unique advantages when compared to other roofing systems.
Here are a few of the benefits of a modified bitumen roof to keep in mind:
Holds up against cold weather: Most roofing material must be applied during warmer weather, as the cold can affect their adhesive properties. Similarly, below-freezing temperatures can take their toll on most roofing options causing them to contract and increase the risk of ripping at the seams. Modified bitumen, however, is a cool roofing material that can stand the cold because it was designed to be flexible.
There are multiple roof installation options: While TPO membranes typically adhere to a roof and asphalt shingles need to be installed one by one, there are numerous ways to install a modified bitumen roof. Torch-application, cold-process adhesives and self-adhering base sheets are all options for installing this kind of roofing system.
UV and heat resistant: Lighter modified bitumen is known to reflect heat, making it resistant to the sun's harsh UV rays. In the hot summer months, this can help reduce energy costs as the roofing system keeps out the heat. It's also possible to use a reflective top coating for added energy efficiency.
Durable: The most important quality you likely look for in a roof is it's durability. Modified bitumen can hold its own when it comes to strength. The combination of fiberglass and polyester layers ensures that the material is tear-resistant. If people are often on your roof to check on equipment, this material also holds up well to foot traffic. It's layered design means a modified bitumen roof can withstand exposure to harsh elements, changing temperature, and people.
Long-lasting: It's widely accepted that a modified bitumen roof has a lifespan of two decades. While not the longest of all roofing systems, twenty years tends to be the average life expectancy of many other materials. It's recommended that you get your roofing regularly serviced to make it last longer.
Easily installed: This kind of roofing system is also easily installed. The most modern application method, self-adhering sheets, has made it easier than ever for roofing contractors to quickly assemble a watertight roof.
Preventing damage is important.
While modified bitumen roofing systems are durable, they are still susceptible to damage like any other covering. According to FacilitiesNet, there are three types of damage you should be on the lookout for:
Seam defects: Like with other roofing materials that are installed in long sheets, there is always a risk that the seams will crack or tear over time. While a contractor will likely overlap the sheets before they are adhered to reduce this risk, cracks can still occur. Poor installation methods and the contracting of material over time commonly result in seam defects. Avoid this damage by hiring an experienced contractor and checking the seams regularly.
Punctures: You must also be cautious of falling debris, like tree branches, foot traffic and dropped tools puncturing the modified bitumen roof. While modified bitumen is durable against the elements, these things are more likely to cause damage. You can prevent this by trimming overhanging branches before they collapse and limiting how often people walk on the roof.
Blisters: Blisters happen when moisture has entered the roofing membrane and caused damage. Unfortunately, when this occurs, an entire replacement is likely needed as it can be difficult to eliminate the source of moisture. Prevent blisters by ensuring your roof continues to be watertight.
Repair or replace when damage is detected?
If you notice your modified bitumen roof is damaged, you have two options: Repair or replace. The good news is that this roofing system can be relatively easy to repair if the damage is detected early on. According to Third Coast Roofing, a modified bitumen roof can be patched with a portion of material cut to size. If a puncture is identified and no water has leaked in yet, a patch can be installed.
However, most damage to this kind of roof is only identified after it's too late and water has seeped under the membrane and into the building's infrastructure. In this instance, it may be necessary to replace the entire thing with new membrane roofing. This will ensure the roof is once again watertight and leak-resistant.
If you want to file a claim for your modified bitumen roof, it's especially important to prove that a covered event caused the damage and you have been maintaining your roof. An insurer is unlikely to cover an old roof at the end of its lifespan because it can be difficult to determine if the damage was caused by one major event or general wear and tear. That's why it's important to have your roof properly inspected regularly to catch damage early on and help any future insurance claims.
When an insured event damages your modified bitumen roof, make sure to contact a public adjuster for assistance. They will help you analyze your insurance policy, inspect the damage to your roof, and properly document the information your insurer needs for a fair claims process.
Contact the team at Stone Claims Group today to learn more about what our knowledgeable public adjuster can do for you.
Any views and opinions expressed in this blog are those only of the author of same and may not be imputed to Stone Claims, its current or former agents, or their assigns and successors. Under no circumstances shall Stone Claims be held responsible or liable for same including, but not limited to, for any errors or omissions in the content of same.