Identifying Cast Iron Pipe Failure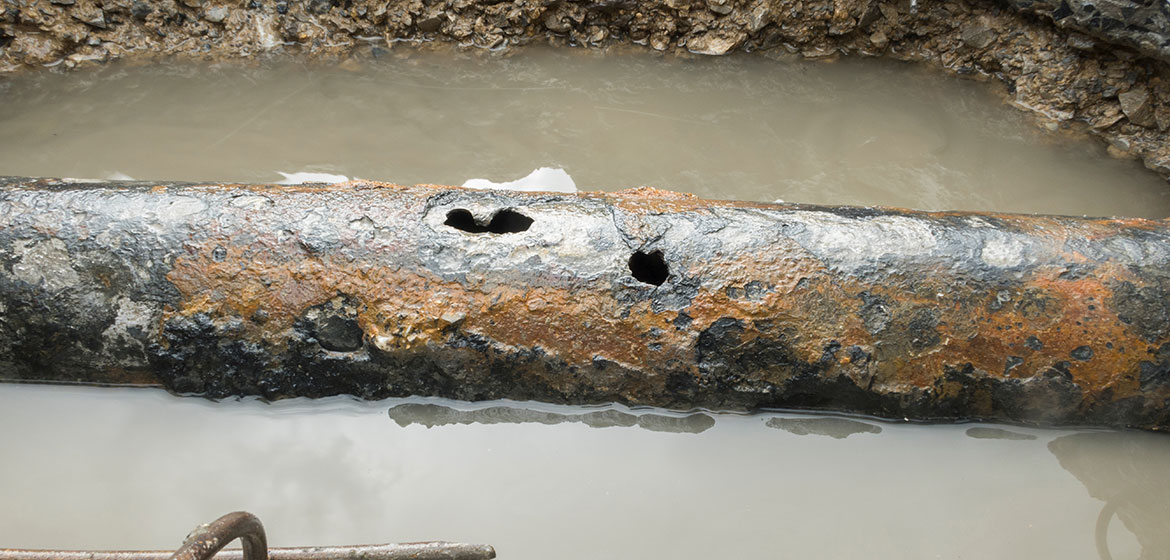 Whether or not you actually do business out of it, do you own a commercial property? Was it built before or after 1975? If you answered "before", the building may well contain cast-iron pipes. The lifespan for these is between 25 and 50 years. After that, bad things can happen. Water damage caused by their failure can be extensive. The market value of your property may be lowered. Local aquifers may be polluted, and more.
Should the cast-iron pipes in your building fail, commercial property damage may occur. If this happens, naturally, you will file a claim with your insurance company. Rather than relying on the adjuster they want to send out, do yourself a favor and hire your own public adjuster. The reasons for this will be discussed shortly.
How do you know if cast-iron pipe failure is occurring? Some clues can include backups, water stains, foul smells, and leaks. Let's look at some of the signs and symptoms of potential cast iron pipe failure.
Cast Iron Pipes Might Be Failing If…
The cast-iron plumbing system your commercial building may be in danger of failure if the following red flags are raised:
Rodent or roach infestation
In the basement, you see water around floor drains
Out of drains, you notice raw sewage seeping
Toilet/drain backups or slow drains
Discolored grout, tile, or staining
Loose, raised, or cracked floor tiles
Water-stained mats, rugs, or carpeting
Odors that are foul smelling and resemble rotten eggs
Water damage or leaks
What to Do about Failing Cast-Iron Pipes
Call a bonded, licensed plumbing contractor if any of the above symptoms are noticed. To determine your plumbing problem's extent and the source, they will do an inspection.
It is crucial you file a claim with your insurance company so that any losses, costs, and damages can be covered. If you don't feel that you get just compensation from them, a lawyer may be your next step. Hopefully, an out-of-court settlement can be reached that will not leave you lacking.
Always make sure you have adequate insurance and the right types of policies. Try to have a complete understanding of insurances and how they work before discussing coverage with an agent. They don't always have your best interests at heart.
If you call in damage from a broken cast-iron pipe, do not refer to it as a "flood". A flood is a natural occurrence that causes local waters to rise and cover streets, lawns, sidewalks, etc. Water damage from plumbing is something entirely different. Frequently, without specific flood insurance, flood damage may not be covered by some insurances.
Have Cast Iron Pipes Failed, And As a Result, Damaged Your Commercial Property?
You can't always fix cast iron pipes before they fail. But when they do, they fail in a big way. Water damage is frequently the result of cast-iron pipe failure. If your commercial property has been damaged in this manner, there is no time to waste. Contact Stone Claims for your commercial property damage insurance adjustment. Why?
Your insurance company will try to send you one of their adjusters. Guess whose best interests those people have in mind? Not yours. It's nothing personal – just business. When you have Stone Claims do your adjustment, you're relying on professionals who have you and only you (and your business) in mind. We are ready to assist, 24/7.
Our motto says it all: Insurance adjusters work for insurance companies. We work for you. We fight for fairness.
Stone Claims is licensed and operates in South Carolina, Pennsylvania, Oregon, Colorado, North Carolina, New Jersey, Nebraska, Mississippi, Maryland, Florida, Louisiana, Georgia, Delaware, Virginia, Texas, Tennessee, and Oklahoma.
For a free claim review, please contact us at 1-800-892-1116. You can email us at office@stoneclaims.com if you like. Or you can use our convenient online form. Fill it out, send it in, and we'll get back to you.