Wildfires: Is Florida Vulnerable?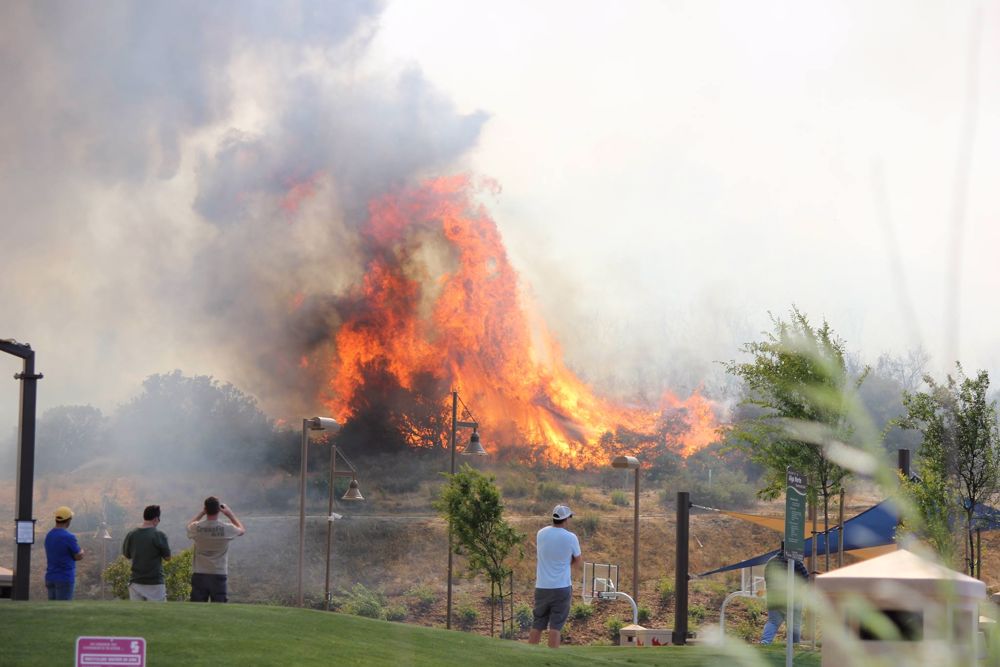 From its world-famous beaches to its seedless oranges, Florida is known for a lot of great things; it's little wonder why it's the fourth-largest state in the country by population. There's plenty to smile about in the Sunshine State. But Florida also has its somewhat infamous "elements," in the literal sense of the term. Be it the oppressive humidity in the dog days of summer or the powerful hurricanes that can — and have — strike well into autumn, extreme conditions are always a possibility for local homeowners and business owners alike.
But one weather woe that area residents don't have to worry about, unlike those in the West, is wildfires.
Or do they? Believe it or not, Florida has seen its fair share of wildfires, several of which weren't too long ago. As wildfires rage across several states, as well as parts of the Pacific Northwest, it's important to realize that wildfires aren't unique to California or its neighboring states; they can occur almost anywhere, making wildfire safety everyone's concern.
Unlike hurricanes, which may not make landfall in a given season, not a year goes by in which there are no wildfires. Several of the worst years for wildfires, in terms of acres burned, were within the past five years. So far in 2021, over 3.4 million acres have been destroyed by wildfire, according to the most recent figures available from the National Interagency Fire Center. To put that into perspective, that's approximately the size of Delaware and Rhode Island combined, according to CNN.
While fire crews are doing their best to contain the blazes, dry weather and lack of rainfall are complicating matters. California, Oregon and Nevada are among the states reporting wildfire activity. At least 247 outbuildings and 161 residences have burned, based on calculations from Inciweb.
While these are sobering statistics, the fact that wildfires occur so frequently, and often in the same general areas, may diminish the impact of this kind of destruction. That's way out there, not something I have to worry about, some might claim.
Florida's surprisingly rich wildfire history
History suggests otherwise. From as far back as the 1920s to as recently as the mid-1980s, Florida has felt the adverse effects of often-devastating wildfires. Perhaps the most well known of these events occurred in 1935. Dubbed the Big Scrub Fire, the blaze broke out in the Ocala National Forest and spread incredibly fast. Indeed, in less than four hours, over 35,000 acres of land were consumed by flame. That incident remains the fastest-spreading wildfire in U.S. history.
Roughly 20 years later, Florida saw another devastating wildfire, which covered even more area than what happened in Ocala National Forest.  Also affecting a national forest — Osceola, which is located in Sanderson — an estimated 100,000 acres burned within 24 hours. That one was called the Buckhead Fire and it took place in 1956.
Fortunately, these fires were removed from highly populated areas. But that hasn't always been the case. In 1985, Palm Beach — a city that presently is home to over 1.1 million residents — endured the wrath of wildfire. An estimated 250 properties were destroyed. This was the first time in the state's history that a serious wildfire was felt in an industrialized portion of Florida. At the time, Palm Beach's population was under 1 million (723,317).
It wouldn't be the last such incident, however, as 13 years later, tens of thousands of people had to be evacuated along the Palm Coast due to wildfire. Fire crews from 44 states were involved in the containment effort, according to government figures from St. Johns County.
Bottom line: Wildfire safety and preparation are everyone's business, because these fires can affect anyone's business, even in the Sunshine State.
How you can protect your business from wildfire
While Wildfire Safety Month is in May, any time is a great time to become more wildfire aware. Perhaps the best way to go about it is by leveraging online resources. The Insurance Institute for Business & Home Safety maintains an excellent website that is devoted to commercial loss prevention tools, what coatings can be used to protect exteriors, information on fire-retardant gels and how to make your business a wildfire-ready business. This section of IBHS' website features diagrams and step-by-step instructions on how to create a defensible space, recommendations on how to reduce combustibility around the perimeter of your property and advice on what signage materials are less flammable. For example, brick and concrete are noncombustible.
The National Fire Protection Association also has some good insights on wildfire preparedness.
Who we are
As public adjusters, Stone Claims Group specializes not only in serving the interests of business owners affected by covered events, but in determining how they happened. From lightning to human error, wildfires can derive from a variety of causes. Our team leverages industry-leading technology to get to the bottom of what led to property damage, which provides policyholders with hard facts that substantiate their claims.
For more information on the technology we use and our success stories, contact us today.
Getting you what's FAIR.
Any views and opinions expressed in this blog are those only of the author of same and may not be imputed to Stone Claims, its current or former agents, or their assigns and successors. Under no circumstances shall Stone Claims be held responsible or liable for same including, but not limited to, for any errors or omissions in the content of same.