5 Types Of Building Materials Commonly Used In Construction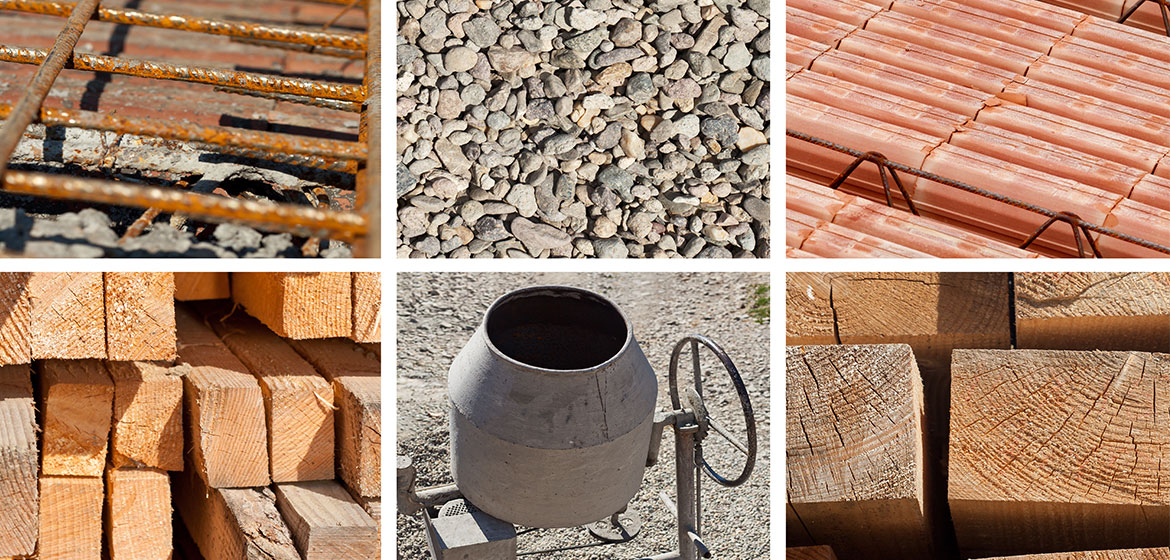 Any material used for the purpose of construction – be it a house, commercial building, etc. – is referred to as building material. In the construction industry, depending on which part of the world the construction is taking place, some materials are more common than others. Based on their effectiveness, builders decide which of these types of building materials will be used. Cost is another factor.
To construct buildings, the local rocks, wood, sand, clay, and other naturally occurring substances have been used through the decades. Separate from these, other products in use are man-made, some being more synthetic than others. In many countries, building material manufacturing is an established industry. Typically segmented into specific specialty trades, the use of these materials can be seen in insulation, roofing, plumbing, and carpentry work.
Here, we will deal with structures and habitats. In America, the five construction materials most commonly used include the following:
Masonry/brick
Stone
Wood
Steel
Concrete
Brick/Block/Masonry
In the past, heated and dried clay was used to make bricks. Today, concrete blocks display higher vitality and steel may be used for reinforcement. Masonry is durable and fire-resistant. In the following construction components, you'll find masonry used:
In flood prone areas, it's used for gabion construction
Masonry foundations
Walls
For decorating finishes, used as veneer masonry
Stone
Though stone does have its drawbacks, in the following aspects, stone is used in construction:
For creating attractive polished finishes, stone like marble is used
Stone may be used for external walls for damp proofing
For railways, stone may be used as ballast
Stone may be used in masonry works for bridge piers, dams, and walls
In construction, stone is used as rough aggregate
Wood
In the construction industry, possibly the oldest material used is wood. It is flexible, durable, strong, cost-efficient, and naturally available. In the following areas, wood is used in construction:
Acoustic insulation
Thermal insulation
In bridge and building frames
Interior construction like window frames, door frames, etc.
Construction of ceilings, floors, and walls
Steel
Made from alloys of carbon and iron, steel is a composite material. It's easy to work with, lightweight, and, compared to other building materials, cheaper to ship. For the following purposes, steel is commonly used in construction:
Utilities (underground gas, power, fuel, and water lines)
Internal fixtures (stairs, rails, and other interior fittings)
Roofing (used to make products such as cladding, ceilings, internal walls, purlins, etc.)
Structural sections (to increase a structure's tensile strength, steel is used in reinforcing bars)
Concrete
Possibly the most common construction material is concrete. In construction, concrete is commonly used for its versatility and cost. It can be found in the following applications:
Sewers and culverts
Bridge construction
Both commercial and residential building construction
Foundations
Was the Construction of Your Commercial Building Halted by Disaster? Contact Stone Claims Group
If the construction of your commercial building has been halted by some type of disaster, don't trust the insurance company and their representatives for claim adjustment. The professionals at Stone Claims Group are ready 24/7, every day of the year, to help your project get back on its feet with an insurance claim!
We promise effective, efficient property damage insurance appraisals. We operate in Virginia, Texas, Tennessee, South Carolina, Pennsylvania, Oregon, Oklahoma, North Carolina, New Jersey, Nebraska, Mississippi, Maryland, Louisiana, Georgia, Florida, Delaware, and Colorado.