What to Know About Claims for EPDM Roofing Membrane Material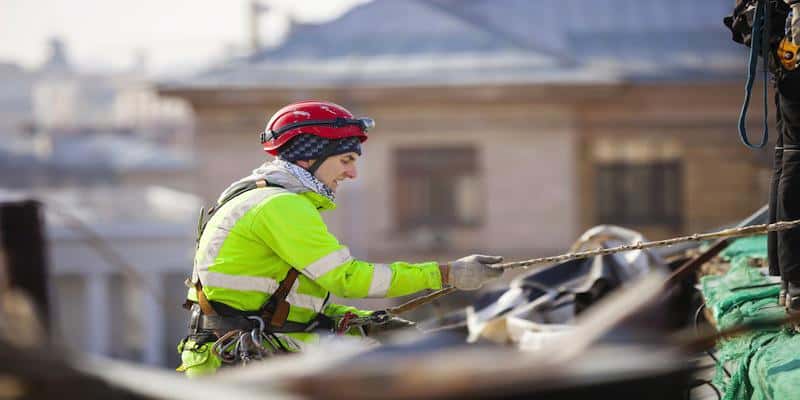 A sturdy roof is one of the essential parts of your commercial property. It protects your other assets and can be a smart investment that lasts a lifetime, depending on what material you choose. One option to consider is EPDM roofing membrane. Short for ethylene propylene diene monomer (or terpolymer), this synthetic rubber material is a popular choice for commercial property owners.
Let's take a closer look at EPDM roofing systems, including some of their pros and cons and how it can affect your commercial insurance claims if it's ever damaged.
EPDM roofing systems 101
Ethylene propylene diene terpolymer is one of the most durable roofing materials. The EPDM Roofing Association explained this synthetic, single-ply material is ideal for flat or slope roofing and property owners looking for a quick and easy installation process. It's commonly called a "rubber roof" because of its components.
EPDM roofing materials were some of the first to be synthetic, but they haven't been the last. Thermoplastic polyolefin (TPO) and polyvinyl chloride (PVC membrane) are two other single-ply membranes you may encounter during your research. While both have their pros and cons, EPDM is ultimately best for commercial property owners needing a cost-effective and time-tested roofing system. It has the lowest upfront cost and one of the most extended lifespans of all roofing materials.
Advantages of EPDM roofing membrane
EPDM has been around since the 1960's, so its advantages and disadvantages are widely known in the roofing industry. Let's start with some of the reasons why you would choose this material for your commercial roofing needs:
Easy installation: Black EPDM is widely accepted to be one of the most straightforward roofs to install. This is because it's manufacturing in large sheets or rolls that are lightweight. EPDM single-ply material is rolled out in large swatches and fully adhered or mechanically attached to the roof quickly.
Durable: Because an EPDM roof is essentially rubber, it's resistant to most weather events like hail storms since the hailstones simply bounce off. A 60 mil membrane would be ideal if you live in a climate where hail is uncommon or stones tend to be smaller, but if you live in an area prone to larger hailstones, opting for a thicker 75 or 90 mil membrane may be better for the long term.
Long life expectancy: Beside metal, EPDM has one of the longest life expectancies of all roofing materials. When maintained properly, some synthetic roofs can last for half a century before being replaced, while other roofing experts suggest its life span is more in the 15-30 year range. How long your EPDM lasts before it needs to be replaced depends on its maintenance, which we will discuss further below.
Safety: EPDM roofing systems are also considered safe. An added AFR layer can make your roofing system fire-resistant in addition to it holding up against strong winds and being ozone-resistant.
Like every roofing solution, an EPDM rubber membrane also has some drawbacks. Here are the most important to consider:
Maintenance: This roofing material will likely need more maintenance in its lifetime compared to others. That's because it's prone to punctures and shrinkage that can lead to water leaks. Suppose you live in an area where severe weather conditions are more common, or temperatures drastically fluctuate. In that case, it's important to hire a contractor to regularly inspect your roof for signs of damage.
Puncturing: While EPDM is a durable roofing system under normal conditions, it may not hold up against severe weather conditions like large hailstones, falling debris, or even heavy foot traffic. If your building is prone to these events, you want to choose a thicker EPDM roofing membrane and conduct routine maintenance to check for punctures and ripped seam tape.
Shrinkage: You must also keep an eye out for shrinkage of the EPDM membrane material. This rubber material is known to shrink and blister under the elements when not properly installed or the adhesive is faulty. As the material shrinks, it may crack at the seams and let water into the building. For this reason, you may want to consider a mechanically attached membrane or ballasted system that better hold the EPDM membrane in place.
Making a claim? Consider the repair vs. replacement costs
If your EPDM roofing membrane is damaged, filing a claim can be difficult because spotting a hole or crack may be impossible to an untrained eye until the next time it rains. Your insurer likely has strict requirements when it comes to the time frame for filing a claim and attributing the damage to a specific event. That's why it's essential to conduct routine inspections of your EPDM roof every season and after severe weather events.
Luckily, repairing an EPDM roof is relatively easy. According to The Spruce, the damaged area can be repaired with a large patch cut to the necessary size. An installation expert will be able to come and patch the space with their specialized tools to ensure it continues to hold up against the elements, and the edges are properly sealed.
If the damage is extensive and water has made its way under the membrane or your roof is simply at the end of its lifespan, it may be time to replace your EPDM membrane. In this case, you would need to document the extreme damage and prove to your insurance company the need for a replacement to receive a larger settlement.
While an EPDM is a good choice for a commercial roof, there may come a time when a weather event damages it, and you need to file a claim with your insurer. If this happens, make sure to contact a public adjuster for assistance. They will ensure your roof is inspected by a contractor with rubber roofing expertise and document the damages to present to your insurer.
A public adjuster stays with you until an experienced EPDM installation company fully restores your roof. Contact the team at Stone Claims Group today to learn more about how our experienced public adjusters can help your metal roof insurance claim.
Any views and opinions expressed in this blog are those only of the author of same and may not be imputed to Stone Claims, its current or former agents, or their assigns and successors. Under no circumstances shall Stone Claims be held responsible or liable for same including, but not limited to, for any errors or omissions in the content of same.